Ambrose Moloney's played by Brid Donohue
A brief analysis by Peter Laban, 14 January 2003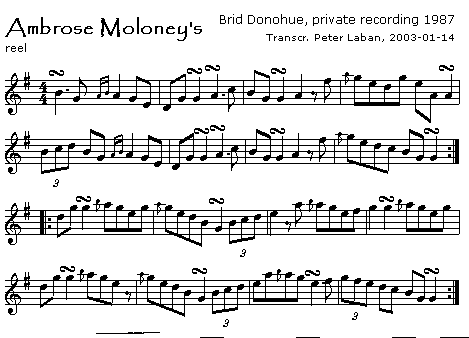 Introduction
From a recording I made in 1987. Brid Donohue, a whistle and flute player from Miltown Malbay in Co. Clare, is regarded as one of today's finest players.
Much of her music came down to her from Willie Clancy and JC Talty, who was the flute player in the Tulla Ceiliband for almost 25 years. JC also played with the Laictin Naoifa Ceiliband, a local group which included a number of the finest flute and whistle players including Josie Hayes, Willie Clancy, Michael Falsey and Martin Talty. The only commercially released track of Brid's music, a fine set comprising The humours of Lissadell and The reel of Mullinavat was included in the tape "The Humours of Clare" realeased by Clare FM.
Brid's playing is always steady and full of life and exudes great taste. Hallmarks of her playing are the great care for detail and the restraint in the use of ornamentation, resulting in an ever-beautiful, tastefully understated music. The reel played here is one of her favourites. She learned it from JC and often follows it with The concert reel, a set from JC's days with the Tulla. Here however the tunes is preceded by The steampacket, a tune associated with the piping of Johnny Doran and Willie Clancy.
The Ambrose Moloney acknowledged in the title of the tune was a fluteplayer from the Ballinakil area of East Galway (see also the comments on the playing of Eddie Moloney).
Brid played an E-flat whistle but as is standard the notation is written as if played in D.
Commentary
This is a fine flowing performance making great use of the rhythmic quality of the rolls. In the repeats of the tune leagato triplets are thrown in to futher enhance the sense of movement in the tune. Note the clever use of stragically placed rests to allow an intake of breath without interrupting the flow of the music. This is West Clare music at its very best.
Peter Laban, Miltown Malbay, Co Clare, 14 January 2003