The reel with the birl played by Micho Russell
Transcription and commentary by Peter Laban, 31 August 2002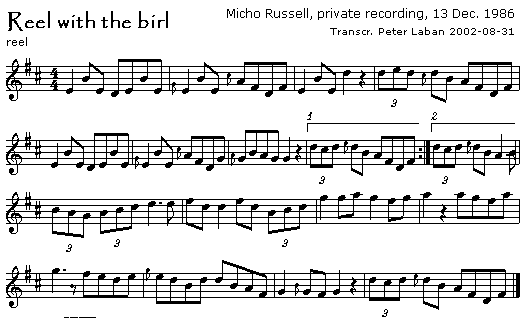 Introduction
The reel with the birl is a close relation of Drowsy Maggie, popularized by the concertina playing of Elizabeth Crotty of Kilrush. Her version (together with The wind that shakes the barley, was recorded by Ciaran MacMathuna during the 1950s and widely broadcast. It became one of her signature tunes.
A version by Willie Clancy can be found in The Dance Music of Willie Clancy (as The lady's bonnet). More recently, versions of the tune have been recorded by Martin Hayes and Mary McNamara. The name is somewhat enigmatic: the tune, through Drowsy Maggie, has a Scottish pedigree and the explanation of the "birl" in the title being taken from an ornament in Scottish piping is as plausible as any. It is often found with spelling "beryle", etc.
Commentary
I can say very little about this tune that has not already been said in the comments to some of the other transcriptions. Micho sails through the tune in his own fine and unmistakable fashion. Micho always maintained he was not one to pick up a tune easily and sometimes found his own solution to problems with which the tune presented him. The second part could be an example of this: it is very "Micho".
Peter Laban, 31 August 2002