The golden eagle played by Donncha O Briain
A brief analysis by Peter Laban, 25 December 2002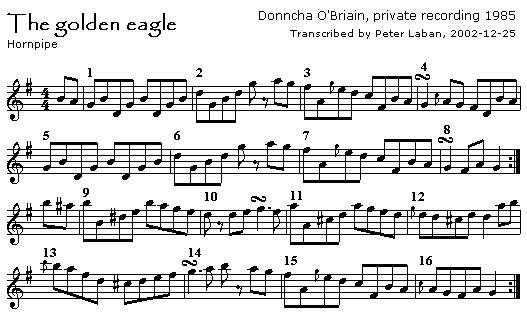 The golden eagle played by Donncha O Briain
A brief analysis by Peter Laban, 25 December 2002
The tune is displayed in the left frame, comments in the lower right frame, so that you can scroll through the text while viewing the music.
Introduction
From a recording I made in 1985. Denis O'Brien, or Donncha O Briain to use the Irish version of his name, was a member of a well-known Dublin musical family: his brothers Thomas (fiddle), Andrew (fiddle), John (pipes), and Mick (pipes) all learned music from an early age from their father Dinny (accordeon).
Despite suffering from muscular dystrophy, Donncha became one of the finest whistle players of his generation. In 1979 he recorded a highly acclaimed LP for Gael-Linn which unfortunately has never been re-released as a CD. He taught music, played concerts and compiled a wonderful collection of music, mostly the tunes he used in his teaching, which was published under the title The Golden Eagle. In 1980 he received a "People of the Year" award "for his triumph over disability, his musical prowess and the inspiration which he provided for so many." Charlie Lennon composed the jig The flying wheelchair in his honour.
At the time the recording presented here was made, Donncha was unable to pick up his whistle unaided: the fingers were virtually the only part of his body he could move. He succumbed to his illness in 1990, aged only 30.
The golden eagle was Donncha's signature tune. A Scottish tune originally, it has been absorbed into the Irish repertoire and it is strongly associated with Sean McGuire's fiddle-playing. It'a favourite among fiddle and concertina players who too often go a bit overboard in emphasizing the tune's chromatic nature. Donncha tastefully and skillfully avoids a number of chromatic passages, giving the tune a wonderfully clear and musical treatment.
Commentary
Bar 1 Please note the second B which is raised an octave from what the fiddle players would play.
Bar 2 has a feature that occurs throughout the playing, a tendency to slide into notes, especially the top-hand ones, to give them a nicely rounded tone. Another feature of the playing is the use of tongued notes that are sprinkled throughout the tune, adding greatly to the clarity of the playing.
There is a great use of lower octave notes to fill in runs like the first A in bars 3, 7, 15, etc. There are also a few subtle approaches to the rhythmic structure of the tune - compare the endings of the first and second parts. All in all a performance that is etched on the mind of everybody who ever saw and heard him play it.
Peter Laban, 25 December 2002