Last night's fun played by Kieran Collins
Comments and transcription by Peter Laban, 26 November 2002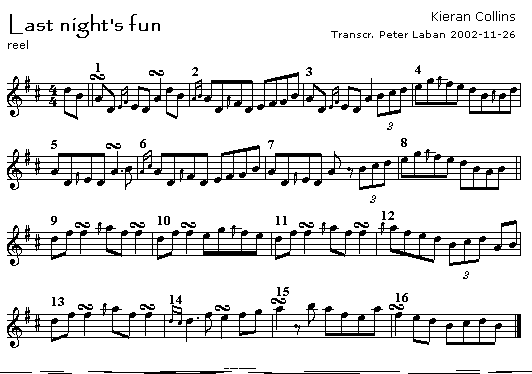 From a recording by Kieran Collins. Another set of tunes taken from a private recording made during the later half of the 70s. The tunes played are Last night's fun, which is transcribed here, and a version of The maid behind the bar. The selection is played on a C whistle. Last night's fun is again a common enough tune and, like The Boyne hunt, strongly associated with the accordion playing of Joe Cooley.
Collins gives the tune a solid treatment, compared to earlier transcriptions there is a wider use of ornamentation: especially rolls are more abundant in this selection. A few nice personal touches are added that make this well-aired tune stand out from the pedestrian performance so often given by less fine players.
Commentary
Bar 1. The tune opens with an unexpected flourish when Collins gives the opening A, which he stretches out lazily to begin with, a strong rhythmic short roll. Another feature is the use of the cut E where most players would use F.
Bar 2. Is more standard in its approach: he gives the first A in the bar a more usual cut and he does use the F here.
Bars 3-4 show few surprises.
Bars 5-8 have some fine powerful playing that is close to the standard version.
Bars 8-12. The turn opens very much following the stadard version of the tune, there's a nice display of F rolls and it's only in...
Bar 12 that Collins treats us to a fine departure from the beaten track when he inverts the end of the phrase and lead-up to the second half of the turn.
Bars 13-16 follow up nicely on this, the long notes in bars 14 and 15 adding a pleasant break in the rhythm while the high notes in the second half of bar 15 make a fine introduction to the rhythmic statement of the short roll on f in the final bar before leading into the second playing.
Notes
Need I state the obvious, I wrote the notes as I heard them, with an imperfect ear and this time well slowed down so sometimes I actually heard more than there actually was. This is a tool for learning and understanding the music and the notation does not want to represent a standard setting or even a way of playing the learner should learn by heart. That said, you can do worse than playing like this. Enjoy. The second tune in the soundclip will be presented at a later date.
Peter Laban, Miltown Malbay, Co Clare. 26 November 2002