Shandon bells played by Joe Bane
A brief commentary by Peter Laban, 11 August 2002
Introduction
Joe Bane (pronounced Bahn) was a flute and whistle player from the Feakle area. In a stylistic sense he is in the same bracket as fiddleplayer P. Joe Hayes and concertinaplayer John Naughton, both from very much the same area. The style is characterised by a sparse though efficient use of ornamentation and relies heavily on its rhythm and the precise phrasing of the music. This gives the style great "lift". Martin Hayes has named Bane as one of his prime influences. For the melancholy lyric strain now strongly associated with the East Clare style, we should look elsewhere: that "Lonesome Touch" was introduced by the fiddleplaying of the giants of East Clare music, Paddy Canny and the late Martin Rochford. Some tracks of Bane's playing can be found on the CD "Maiden voyage", a session recorded in Pepper's bar in Feakle during the early 1990s.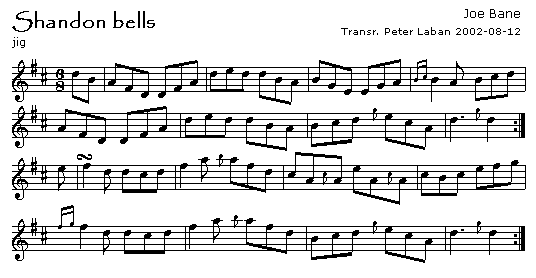 Commentary
Shandon Bells is a common double jig, named after the bells of a famous Cork city church. It is the first tune in O'Neill's and Bane's playing follows that setting almost to the note. Bane employs a minimum of ornamentation, just enough to help the tune along. Little variation is used overall: the playing depends mostly on the rhythm and the phrasing for itss impact. It is music that would be described by players in Clare as "nice and steady", which is a great compliment, if ever you get it. The style of phrasing empoyed here is described in detail in Pat Mitchell's "Rhythm and structure in Irish traditional dance music, part one" in the Journal of the Sean Reid Society, Vol. 1 (March 1999).
The basic building blocks of the tune are made up of the first three notes of the two groups of three in the bar, plus the first one of the second group. The remaining two notes of the bar lead up to the next "phrase". This is a distinctly different approach from the often heard phrasing the tune by the bar, and it goes like this:

1 dB AFD D

2 FA ded d

3 BA BGE E

4 GA B2A B

The four "blocks" makeup the longer phrase that is the first half of the first part of the tune.
Notes
Please note that the transcription was done with an imperfect ear and without slowing down devices, while I have indicated certain notes used in cuts, in some cases I can not actually distinguish which finger is used to cut a certain note and have made an informed guess. The main feature of this playing is however the rhythm and phrasing, creating a bouncy performance with great lift, achieved with a minimum of ornamentation but with great insight into the tune itself. It shows that a great performance by a traditional player does not need to incorporate the shower of fingers of the virtuoso.
Peter Laban