The Traveller played by Packie Duignan
A brief analysis by Peter Laban 5 December, 2002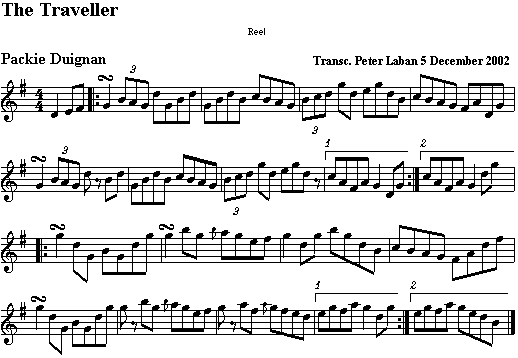 Introduction
In Jill Freedman's wonderful photo book, A Time That Was, there is a magnificent photograph of two flute players. The image has that 1980s quality to it that you get from pushing Tri-X film to its limits, the textures of the low values vanish into the dark while the high values light up with great brightness, increasing the sense of light in the photograph. In this photograph, the two men are playing in a pub, a row of pints waiting on the table in front of them, a timber clad wall and dado-rail behind them.
They sit side by side, neatly dressed and absorbed in their music, fingers flying, eyes looking inward, focusing on the image the music evokes in their minds. Their heads are close together, one of them a left-handed player, the flutes pointing out from the centre. These men are Patsy Hanly and Packie Duignan, two of the greats of Roscommon flute playing.
Packie Duignan (1922-1992) was a miner from Arigna in Co. Roscommon. The Compendium of Irish Traditional Music supplies the information that he started out learning the Clarke's tin whistle while listening to the 78 rpm's of John McKenna and his diaphragm-driven rhythm was strongly influenced by McKenna's playing (or possibly an older local style they shared). A man of great humour, he named one of the ad hoc ensembles he played in 'The Underpriveleged Ceili Band'. Some of his music can be found on the first volume of the Coleman Archive CD, vol. 1, The Living Tradition.
Commentary
Duignan gives the reel a fine flowing treatment taking a route through the tune slightly different from the commonly played version which was published by O'Neill in The Dance Music of Ireland. His take on the second part of the tune is quite a personal one.
Peter Laban 5 December, 2002