NEWS

ABOUT PACKIE

A DOSSAN OF HEATHER

AUTOBIOGRAPHY

TALL TALES

<!a href="http://mercury.beseen.com/guestbook/i/187282/guestbook.html" target="main"> SEND PACKIE A MESSAGE!

WHERE TO FIND PACKIE'S STUFF

DISCOGRAPHY

<!a href="catalogue.html" OUR CATALOGUE/abrbr> LINKS

QUESTIONS? CONTACT US!

---
SISTER SITES:

LOUIS MCMANUS

BRO. STEVE'S WHISTLE PAGES

SIAMSA SCHOOL OF IRISH MUSIC

BIG NIGHT DANCES IN MONTREAL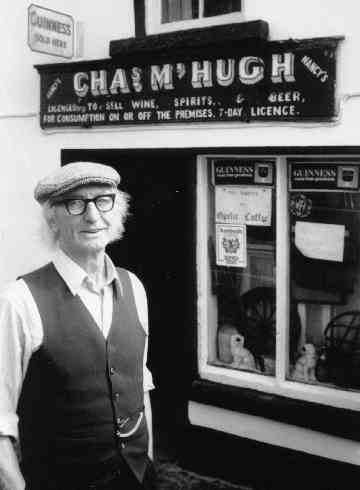 Welcome to the home on the web of Packie Manus Byrne, the much-loved traditional singer, tin-whistle player and storyteller from southwest Donegal, Ireland.
News - August 2008. Packie, now in his 92nd year, as on the ball as ever, cheerful despite all the aches and pains, and his sharp sense of humour is still firing on all 12 cylinders.
Packie is still living at home in Ardara, Co. Donegal. As always, and especially during the summer months, he has a steady flow of visitors, known and previously unknown, from all over the world. And as always, there is a creative project in the works: recently he has been collaborating with a young singer, Cliona Heena, who has been taking an interest in his songwriting output.
Recently Cliona recorded two of Packie's songs on a benefit CD, with proceeds to go to the Alzheimer's society. At the launch in Ardara in April 2008, sales brought in over €5,000! In the wake of this success, Cliona has decided to make a full-length CD of 14 of Packie's songs. Watch this space for details.
You can see some pictures of the launch on the official photographer's website. Scroll down to nos. 19-21 for some nice shots of Cliona and Packie.
Contact. Readers wishing to contact Packie can do so by sending an e-mail through the webmaster. Please be warned that there may not be an immediate response (or indeed any response at all!), although all messages will get through to him.
Packie's latest book, A Dossan of Heather, is a collection of his unique repertoire of traditional tunes, accompanied by stories, photos, and lots of other information. It's published by Mel Bay, and you can order it from your local music store. Click here for more information, reviews, and extracts from the book.

| | | |
| --- | --- | --- |
| | | |