NEWS

ABOUT PACKIE

A DOSSAN OF HEATHER

AUTOBIOGRAPHY

TALL TALES

WHERE TO FIND PACKIE'S STUFF

DISCOGRAPHY

<!a href="catalogue.html" OUR CATALOGUE/abrbr> LINKS

QUESTIONS? CONTACT US!

---
SISTER SITES:

BRO. STEVE'S WHISTLE PAGES

SIAMSA SCHOOL OF IRISH MUSIC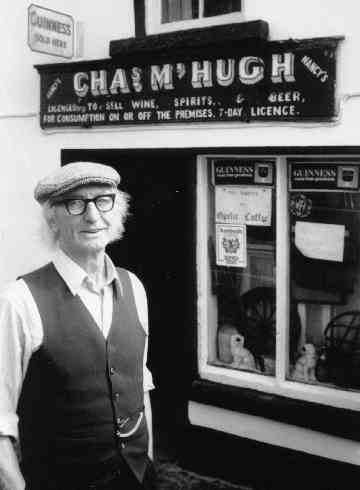 Welcome to the home on the web of Packie Manus Byrne, the much-loved traditional singer, tin-whistle player and storyteller who lives in Ardara, County Donegal, Ireland, not far from where he was born (in 1917) and brought up.
For news of Packie and his current state of health, please see the News page (updated 26 September 2014).
Contact. If you would like to write to Packie Manus, send a letter to: Packie Manus Byrne, Ardara, Co. Donegal, Ireland. The post office will know where to deliver. Write in a large clear hand, or preferably type in a large clear font. Don't expect a reply however! You can contact the webmaster by email.
Follow the links below, or those on the left, for information about Packie Manus' books, including the most recent, A Dossan of Heather: a collection of his unique repertoire of traditional tunes, accompanied by stories, photos, and lots of other information. It's published by Mel Bay, and you can order it from your local music store. Click here for more information, reviews, and extracts from the book.

| | | |
| --- | --- | --- |
| | | |