About the author
(Now somewhat dated) photo by Thomas Brenneur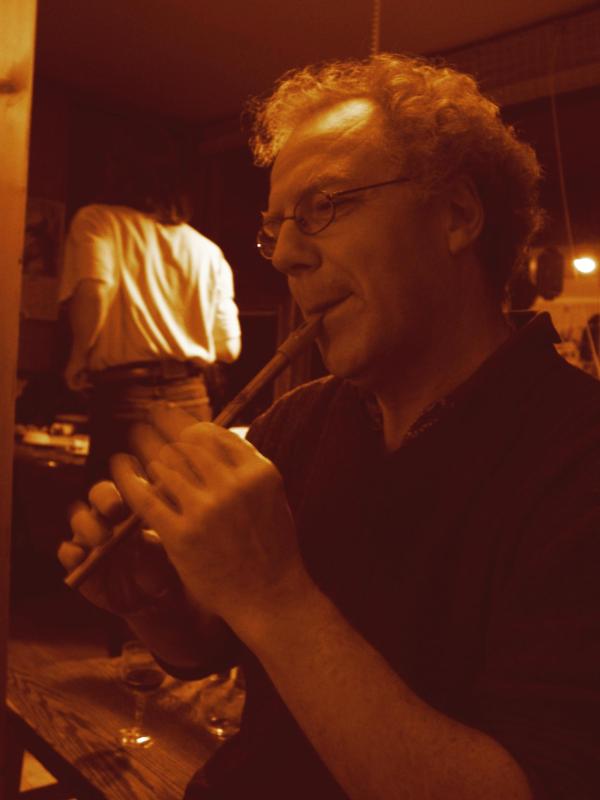 My real name is Stephen Jones. The nickname "Brother Steve" was conferred on me by Irish friends after I recounted a campfire anecdote about some Trappist monks in Ireland. I am using it here in the vain hope of distinguishing myself from the approximately 36.25 million other Steve Joneses on the planet.
I've been involved in Irish traditional music for 45 years. I started as a fiddle player and had a fine time playing in all manner of bands (pub, concert and dance varieties), highlights being spells with Poteen (Melbourne) in the 1980s and Phenigma (Montreal) in the 1990s. I began concentrating on the whistle when a chronic shoulder problem made fiddle playing difficult. (The trouble was diagnosed in 2004 as focal dystonia, or "occupational cramp", a problem that has blighted the careers of many musicians more distinguished than I.) I now lead a quieter life and my main gig is playing for dances (mainly on button accordion these days) as leader of the Siamsa Céilí Band of Montréal.
Over the past 30 years I have taught fiddle, whistle and button accordion to many students at the Siamsa School. My interest in Irish music has also led me into publishing books, all about which you can learn at the Roger Millington home page.
I hope you enjoy the site and get something useful out of it. If you think I'm barking up the wrong tree about anything, feel free to let me know.
"Brother" Steve
Acknowledgments
I would like to thank all my students (autumn 2000 session) at the Siamsa school of Irish music for their enthusiasm, which has inspired me to unleash this material on an unsuspecting world. They are: Isabelle Patoine, Dave Kelsall, Louise Slater, Jamie Kerr, Bob Burgess, Winnie Grady, Guillaume Métayer, Christine Mooij, Anne Lynch and Xavier Beaven. Thanks also to Brendan and Bernadette Walsh, Emily Andrews, and all the volunteers and teachers at the school, where I have found teaching very rewarding.
For his invaluable help with the re-design of this site and other matters, I thank my friend Brad Hurley, a fine flute player with whom I have the privilege of sharing tunes frequently.
My thanks go also to Teri Kessler, Carol Skinner, Susan Lacy, Manfred Gabriel, Glauber Ribeiro and Peter Laban for very useful feedback, suggestions and encouragement.
I've never had what you could call a lesson on the whistle. But here are photos of two friends who helped me with a few timely pointers that I have never forgotten. As a token of gratitude I rest my best whistles with the heads pointing in their direction.
Next page: Guestbook
Previous page Brother Steve's links page
Site contents: Back to the home page
Updated: 11 December 2012